Our Dental Practice
Our dental practice is situated in a modern building at 32 Daedalou St. The office is functional and tastefully decorated by the family firm of "CHARITOS WOODEN ARCHITECTURE".
The surgery has full modern equipment to cover all the needs of a modern dental surgery in perfect hygiene conditions. Thanks to our complete range of equipment and constant updating of our scientific training, we can solve any dental problem from the simplest filling to surgical grafts.
An important part of our daily services is improvement of your smile, either with simple cosmetic treatments such as whitening, or through prosthetic rehabilitation such as porcelain veneers and crowns.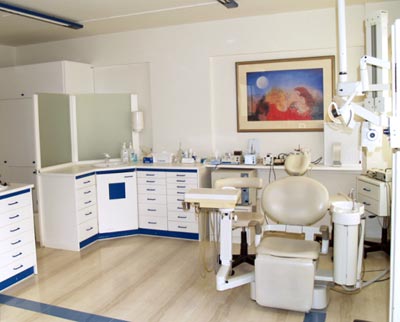 DENTAL TREATMENTS - SERVICES
preventive dentistry (cleaning, fluoride treatment, sealants etc.)
cosmetic dentistry (tooth whitening, porcelain veneers)
restorative dentistry (fillings)
endodontic treatments
removeable and fixed prosthetics (bridgework, dentures etc.)
implants (implant surgery and prosthetic rehabilitation)
periodontology (gingivitis, periodontitis, bone grafts, tissue regeneration membranes etc.)
oral surgery (impacted tooth extraction, root canal work, frenectomy, gum surgery etc.)
stomatognathic physiology
full digital medical and dental records and automatic recall system for cases requiring follow-up visits